MUDr. Marek Hergel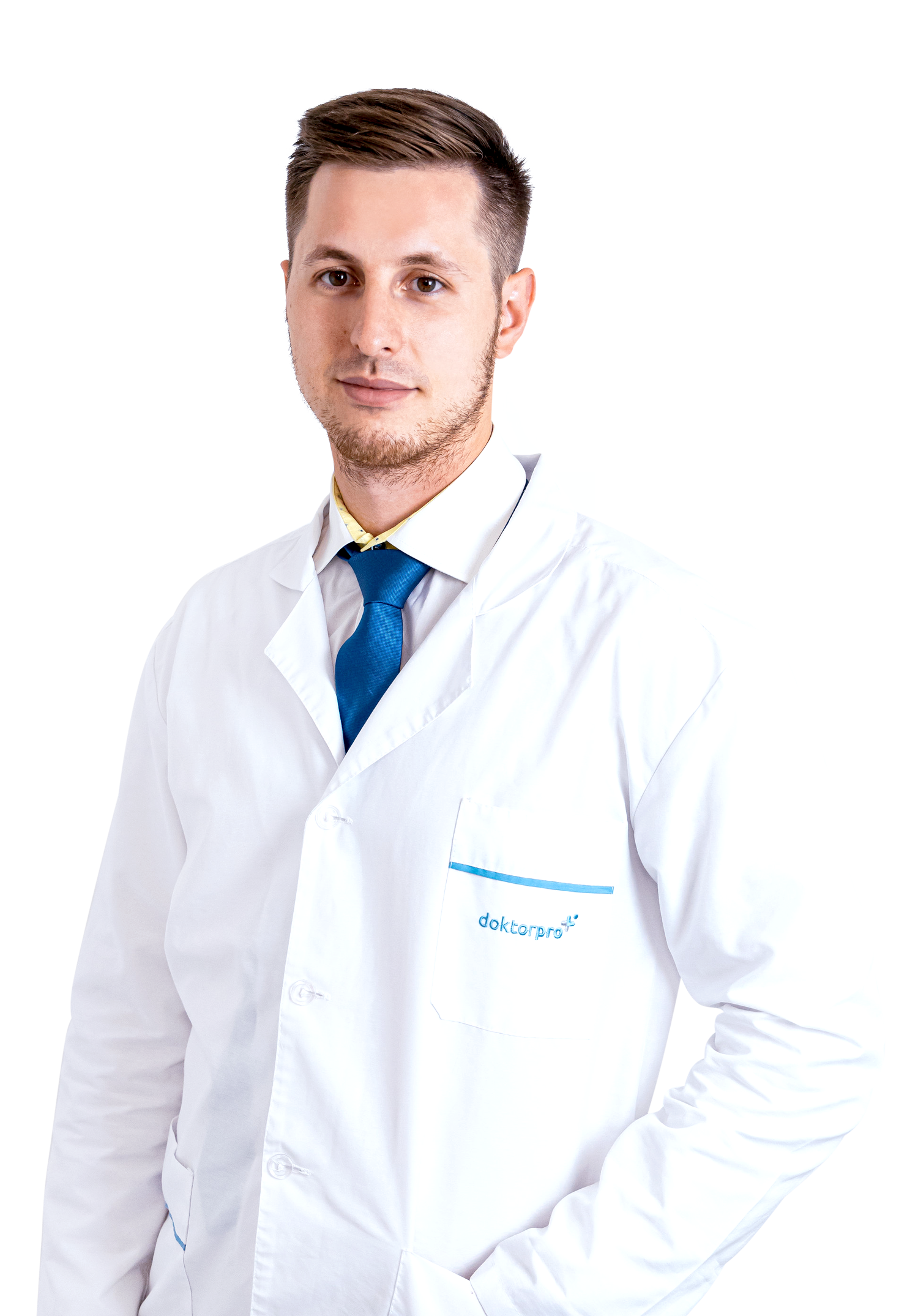 USG department doctor
Attentive and responsible doctor. Mr. Hergel has deep knowledge and practical skills in performing all types of ultrasound examinations.
Вернуться назад к описанию врача
2015 - Practice in the center of imaging methods Uniklinika of cardinal Korc, with a focus on ultrasonography.
2016 - Internship at the radiology department at the University Hospital in Brno.
2017 - Faculty of Medicine, Masaryk University, obtained the title of MUDr. from the Department of General Medicine.
2017 - Doctor in attestation training in the field of radiology at the radiology department at the National Oncology Institute in Bratislava.
2021 - DoktorPRO Medical Center - doctor of the USG department.
Cost of appointments
Doppler arteries of the lower or upper extremities (one) as recommended
Dopplerography of the arteries of the lower or upper extremities (one)
Doppler imaging of the veins of the lower and upper extremities (one) as recommended
Dopplerography of the veins of the lower and upper extremities (one)
Ultrasonography of the adrenal glands on the recommendation
Ultrasonography of the adrenal glands
Comprehensive ultrasound of the thyroid gland, salivary glands and peripheral lymph nodes on the recommendation
Complex ultrasound of the thyroid gland, salivary glands and peripheral lymph nodes
Duplex scanning of the vessels of the head and neck as recommended
Ultrasound of the thyroid gland as recommended
Ultrasound of the salivary glands as recommended
Testicular ultrasound as recommended
Ultrasound of superficial formations of soft tissues and peripheral lymph nodes (1 area) on the recommendation
Ultrasound of the pleural sinuses as recommended
Ultrasound of the kidneys as recommended
Ultrasound of the urinary system (kidneys, bladder) as recommended
Ultrasound of joints (knee, elbow, ankle), one joint on the recommendation
Ultrasound of joints (knee, elbow, ankle), two joints on the recommendation
Ultrasound of the abdominal aorta as recommended
Ultrasound of the mammary glands with Doppler and regional l / v as recommended
Ultrasound of the abdominal cavity (liver, gallbladder, pancreas, spleen) with the study of portal blood flow + kidneys on the recommendation
Ultrasound of the pelvic organs of women transabdominal (uterus, appendages) with Doppler on the recommendation
Ultrasound of the pelvic organs of men transabdominally with Doppler as recommended
Doppler imaging of the veins of the lower or upper extremities (two) as recommended
Doppler imaging of the arteries of the lower or upper extremities (two) as recommended
Ultrasound of the pelvic organs of men transabdominally with Doppler
Ultrasound of the abdominal cavity (liver, gallbladder, pancreas, spleen) with the study of portal blood flow + kidneys
Ultrasound of the mammary glands with Doppler and regional l / v
Ultrasound of the pleural sinuses
Dopplerography of the arteries of the lower or upper extremities (two)
Doppler imaging of the veins of the lower or upper extremities (two)
Ultrasound of the abdominal aorta
Ultrasound of joints (knee, elbow, ankle), two joints
Ultrasound of joints (knee, elbow, ankle), one joint
Ultrasound of the salivary glands
Duplex scanning of the vessels of the head and neck
Ultrasound of the pelvic organs of women transabdominal (uterus, appendages) with doppler
Ultrasound of the kidneys
Ultrasound of the thyroid gland
Ultrasound of superficial formations of soft tissues and peripheral lymph nodes (1 region)
Ultrasound of the urinary system (kidneys, bladder)
MUDr. Marek Hergel articles
Address: Bratislava, Ruzinovska 40
DoktorPRO in Bratislava
We accept: Mon.-Fri 9:00-19:00 St. 9:00-15:00